Raj Madhavan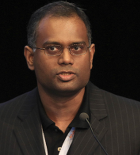 Robotics & Automation for Societal Good
Bridging Competitions & Challenges and Technology & Public Policy
Abstract: Recent developments in robotics, automation, and artificial intelligence accompanied by the confusion and concerns surrounding their societal impacts (e.g., self-driving cars, drones, and robots equated to job losses) only fuel the speculation of their negative effects while making the discussion imbalanced and skewed. Consequently, there exists a huge disconnect between what is possible from an engineering viewpoint and what the expectations of the general public are. While the source of this disconnect can be conveniently blamed on Hollywood movies and alarmist opinions reported by the media, the scientific community also can be held accountable, at least partly, for some of these confusions and exaggerations. Fundamentally, the problem lies in the fact that we have not seen many practical, robust, and affordable solutions that can make a difference in the quality of lives of end-users.
My previous work focused on performance evaluation, benchmarking and standardization of intelligent systems (mostly ground robots). My current work focuses on the applied use of robotics and automation technologies for the benefit of under-served and under-developed communities by working closely with them to develop solutions that showcase the effectiveness of solutions in domains that strike a chord with the beneficiaries. This is made possible by bringing together researchers, practitioners from industry, academia, local governments, and various entities such as the IEEE Robotics Automation Society's Special Interest Group on Humanitarian Technology (RAS-SIGHT), NGOs, and NPOs across the globe. In this keynote, I will discuss a demining challenge that I have been co-organizing with the intent of producing an open-source solution for detecting and classifying buried unexploded ordnance. I will also outline my recent efforts in the technology and public policy domains with emphasis on socio-economic, cultural, privacy, and security issues in developing and developed economies. Finally, I will draw my conclusions based on the competitions and challenges that have been organized from industrial, academic, and humanitarian viewpoints and how their impacts could be assessed.

Biography: Raj Madhavan is an internationally recognized expert in humanitarian robotics and automation technologies. His current research interests lie in the application and tailoring of existing and emerging technologies that are cost effective, reliable, efficient and geared towards improving the quality of lives of people in underserved and underdeveloped communities around the globe. He is particularly invested in the development of sustainable technologies and systems in a variety of domains that enable the realization of the UN's 2030 agenda for sustainable development and the sustainable development goals for the benefit of humanity.
Dr. Madhavan is the Founder & CEO of Humanitarian Robotics Technologies, LLC, focusing on applied technology consulting, training, and research. Most recently he was a Distinguished Visiting Professor of Robotics at Amrita University, Kerala, India (February 2016-January 2017) and has held appointments with the Oak Ridge National Laboratory as an R&D staff member based at the National Institute of Standards and Technology, and as an assistant and associate research scientist, and as a member of the Maryland Robotics Center with the University of Maryland, College Park. He received a Ph.D. in Field Robotics from the University of Sydney, an ME (Research) in Systems Engineering from the Australian National University, and a BE in Electrical and Electronics Engineering from the College of Engineering, Guindy, Anna University in 2001, 1997, and 1995, respectively. Over the last 20 years, he has contributed to various topics in field robotics, humanitarian technologies, and systems and control theory. He has published over 200 papers in archival journals, conferences, and magazines and has co-edited two books "Intelligent Vehicle Systems: A 4D/RCS Approach" and "Performance Evaluation and Benchmarking of Intelligent Systems" and four journal special issues. He has served as an invited independent judge for robotics competitions, has given numerous invited presentations in research organizations in several countries, has served on editorial boards and program and organization committees of premier robotics, automation, and control conferences, and on several national and international panels and review boards.
He has been active in various leadership roles with the IEEE and its Robotics and Automation Society. Within IEEE, he is currently leading a Future Directions Initiative on Symbiotic Autonomous Systems and serving as Co-chair, Economics of Machine Automation and Humanitarian Activities Committee of the Global Initiative for Ethical Considerations in Artificial Intelligence and Autonomous Systems. Within the IEEE Robotics and Automation Society, he served as the Founding Chair of the Technical Committee on Performance Evaluation and Benchmarking of Robotics and Automation Systems, TC-PEBRAS (2009-2011), Founding Co-chair of the Humanitarian Robotics and Automation Technology Challenge (2014-), Vice President of the Industrial Activities Board (2012-2015), Chair of the Standing Committee for Standards Activities (2010-2015), and since 2012 is the Founding Chair of the Special Interest Group on Humanitarian Technology (RAS-SIGHT). He is a senior member of IEEE, a 2008 Volunteer of the Year awardee of the IEEE Washington Section, was recognized for his services to RAS as VP of the Industrial Activities in 2014 & 2016, and is the 2016 recipient of the IEEE Robotics and Automation Society's Distinguished Service Award for his "distinguished service and contributions to RAS industrial and humanitarian activities".
Nikos G. Tsagarakis

Actuation Principles for Robots with High Power and Enhance Physical Interaction Capabilities
Abstract: The mechatronic development of robots has considerably progressed during the past two decades with various designs based on different actuation technologies, from motorized based systems to hydraulic and soft actuation technologies. Despite though the advancements in the design of motorized robots significant limitations remain, preventing the robot hardware (physical structure and actuation) from equalling the performance of human in locomotion, manipulation and full body motion in terms of physical robustness, power performance and efficiency. Considering the compliant actuation principles and technologies developed at IIT this talk will present their application on the development of COMAN, WALK-MAN and CENTAURO platforms.  Details on the actuation and robot design approaches to achieve the necessary performance in terms of physical resilience, high power and fast motion capabilities will be introduced. Recent work and considerations on the energy efficiency of compliant actuation systems will also be discussed.

Biography: Nikos G. Tsagarakis is Tenured Senior Scientist at IIT and Head of Humanoid and Human Centre Mechatronics Lab with overall responsibility for the development of Humanoids and legged robots (cCub, iCub, COMAN, WALK-MAN and CENTAURO), compliant and variable Impedance Actuation, soft robotic arm/leg systems and wearable assistive devices and exoskeletons for power augmentation.  He is author or co-author of over 250 papers in journals and international conferences and holds 14 patents. He has received several awards from international journals and conferences including ICRA, IROS, HUMANOIDS, ICAR, ROBIO, ICINCO and WORLDHAPTICS. He has been in the Program Committee of over 60 international conferences and he is Technical Editor of IEEE/ASME Transactions in Mechatronics and on the Editorial Board of the IEEE Robotics and Automation Letters. Since 2013 he is also serving as a Visiting Professor at the Centre for Robotics Research (CORE), at King's College University.